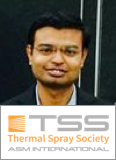 Graduate student Ankur Gupta has been selected as a student board member on the Thermal Spray Society Board of Directors.
This one year position allows Gupta the opportunity to participate in several TSS teleconferences, as well as an expenses paid trip to attend the TSS Board meeting in Salt Lake City Utah.
TSS President Christian Moreau personally acknowledged Gupta's accomplishments, citing leadership experience, knowledge of the field, and excellent credentials as the determining factors of Gupta's selection.
You can learn more about the TSS by visiting their website here.
Congratulations Ankur on this prestigious appointment and great achievement!