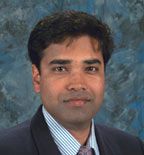 Congratulations to the three new Trustee Chairs who were honored at the UCF Board of Trustees meeting on July 20, 2017 – Mohamed Abdel-Aty, Sudipta Seal, and Stella Sung.
Dr. Abdel-Aty is a Pegasus Professor and chair of Civil, Environmental, and Construction Engineering, the deputy director of the Center for Advanced Transportation Systems Simulation, and an internationally-recognized researcher in the area of transportation safety.
Dr. Seal is a Pegasus Professor and chair of Materials Science and Engineering, the former director of UCF's Advanced Materials Processing and Analysis Center and NanoScience Technology Center, and a pioneer in the field of transition metal and rare earth oxides with far-reaching impact.
Dr. Sung is a Pegasus Professor of Visual Arts and Design, the director of the Center for Research and Education in Arts, Technology, and Entertainment (CREATE), and a composer of concert music, film, ballet, opera, and video for global audiences.
You can learn more about each of these exceptional scholars on Faculty Excellence's website at http://facultyexcellence.ucf.edu/trustee-chairs/
These faculty members join the eight previously named Trustee Chairs: Deborah Beidel, Zenghu Chang, Peter Delfyett, Peter Hancock, Martin Richardson, Jeff Rupert, Mubarak Shah, and Eric Van Stryland.
Designed to both retain and attract exceptional faculty, these five-year Trustee Chair appointments offer an annual stipend of $50,000. In order to be eligible, nominees must be professors who are ranked as a "foremost scholar" in their chosen area of expertise and known for making a positive scholarly impact on others.