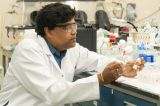 Sudipta Seal is one of 23 fellows recognized for his contributions which have impacted the area of space, medicine and the environment.
Engineering Professor Sudipta Seal has been named a 2020 Fellow of the American Ceramic Society (ACerS).
The organization, which began in 1968 when brick manufacturers got together to discuss the industry, has grown into one of the most influential groups shaping the way we think about materials science. It includes 11,000 scientists, engineers, researchers, manufacturers, plant personnel, educators, students and others from more than 70 countries.
This year, the national fellow designation recognizes 23 professionals who have made outstanding contributions to ceramic arts or sciences, broad and productive scholarship in ceramic science and technology, notable achievement in ceramic industry, or by outstanding service to the ACerS.
It's no easy process to be selected. According to the organization, candidates are nominated by a member of the society. The nomination packet must include a form that has the signatures of at least seven other members that support the nomination. Then a panel of 12 previously honored fellows reviews all the packets. After several rounds of discussion, the honorees are selected.
"It's my honor to get elected to this prestigious society," Seal says. "And it is humbling to see my work in ceramics acknowledged by my peers."
Seal's cutting-edge work, which span the medical, space and environmental industries, has been cited by other scholars more than 20,200 times since 2015, according to Google Scholar, and thousands more times before that.
For example, his work with oxide ceramics led to a way to use fly ash, a byproduct of burning coal, to absorb oil found in waterways. Another one of his ceramic-related projects led to the creation of coatings that help protect against corrosion and unwanted chemical reactions with other biomaterials. Seal is also quick to respond to community needs. When COVID-19 hit Central Florida in March, he began work on using nanotechnology within a few weeks to help protect medical care providers.
"Every year the society honors prominent members who have devoted their lives to the advancement of ceramic science and technology and have made remarkable contributions to their profession," says ACerS President Tatsuki Ohji. "They set the bar for what our members can aspire to."
The awards will be presented at the Society's Annual Honor and Awards banquet, Oct. 5 in Pittsburgh, Pennsylvania, during the ACerS Annual Meeting held at the Materials Science and Technology Conference.
Seal has also been recognized before by the World Academy of Ceramics, the Florida Inventors Hall of Fame, the Royal Society of Chemistry and many others.
Seal has multiple degrees including a master's from the University of Sheffield and a doctorate from the University of Wisconsin. Before joining UCF 22 years ago, he was a postdoctoral fellow at the Lawrence Berkeley National Lab.
Original story: here