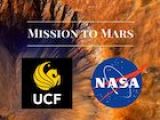 It's hard enough to transport humans to Mars. But once they get there, where will they live?
A University of Central Florida professor is working with NASA to figure out a way to extract metals from the Martian soil – metals that could be fed into a 3-D printer to produce the components of a human habitat, ship parts, tools and electronics.
"It's essentially using additive-manufacturing techniques to make constructible blocks. UCF is collaborating with NASA to understand the science behind it," said Pegasus Professor Sudipta Seal, who is interim chair of UCF's Materials Science and Engineering program, and director of the university's Advanced Materials Processing & Analysis Center and NanoScience Technology Center.