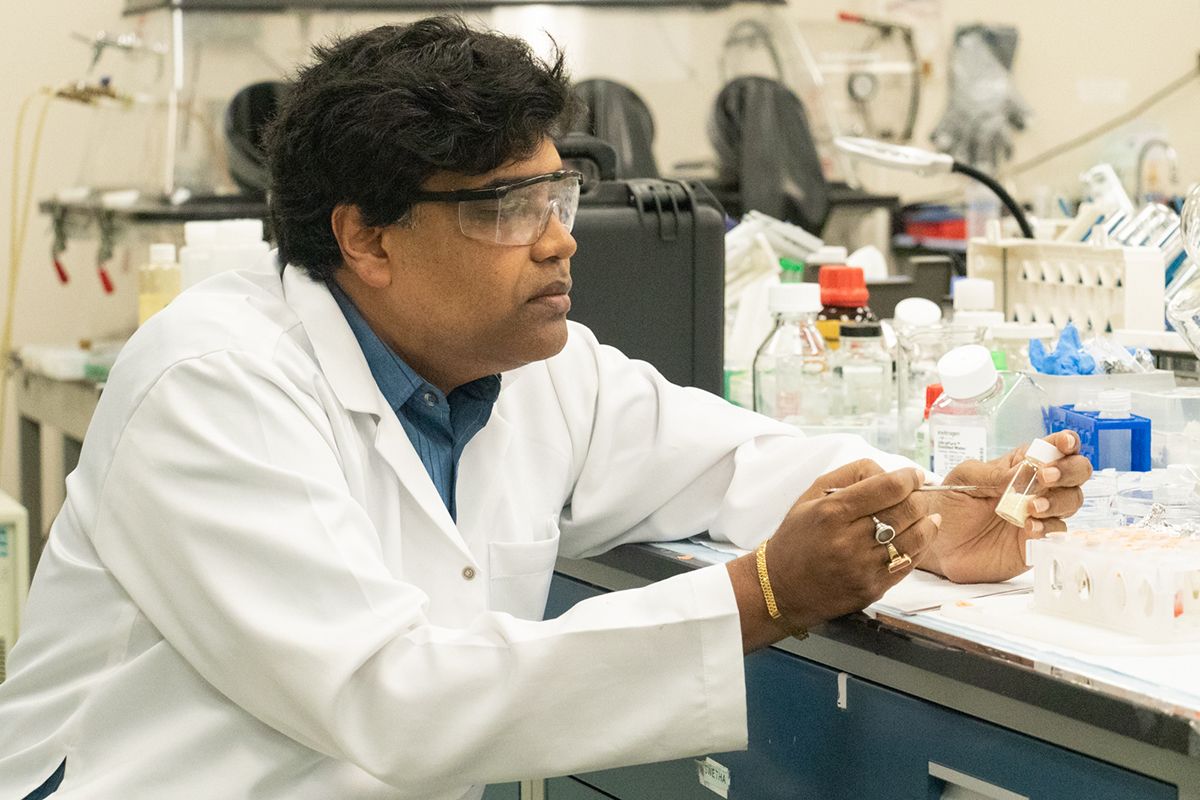 The therapeutic properties come from cerium oxide's ability to act as an antioxidant that stops dangerous free radicals.
A University of Central Florida researcher's novel work in nanoscale antioxidants is continuing to show promise in the medical field, with a new study that shows their effectiveness in helping to heal diabetic wounds.
The study, published recently in the journal Acta Biomaterialia, showed that gels containing cerium oxide nanoparticles, whose therapeutic properties were discovered by UCF, sped up diabetic wound healing time and significantly reduced inflammation in studies in mice when also paired with therapeutic microRNA.
Sudipta Seal, study co-author and professor and chair of UCF's Department of Materials Science and Engineering, developed the use of nanoscale cerium oxide for medicinal uses more than a decade ago. The therapeutic properties come from cerium oxide's ability to act as an antioxidant that stops dangerous free radicals in the body by donating electrons to them, an ability that only increases at the nanoscale.
The antioxidant developed by Seal has also shown promise in reducing harm caused by radiation, which could be beneficial to people ranging from cancer patients, to beachgoers, to astronauts.
"These are unique inorganic nanoparticles that can combat oxidative stress to improve wound healing," Seal says. "We worked with collaborators at Children's Hospital Colorado and Colorado School of Mines to develop them for use in therapeutic gels."
Ken Liechty, a professor of pediatric surgery with the University of Colorado School of Medicine and Children's Hospital whose research focuses on wound healing, led the mice studies. Melissa Krebs, an associate professor of chemical and biological engineering at Colorado School of Mines whose research focuses on biomaterials for drug delivery, was the study's lead author.
Krebs' research team developed a way to create frozen versions of hydrogel bandages, known as cryogels, that slowly release the therapeutic cerium nanoparticles and microRNA. This is an improvement over traditional hydrogel bandages used for treating wounds that often release therapeutics too quickly. Seal's team made and provided the cerium oxide nanoparticles, including those loaded with microRNA.
"Complications of diabetes, including impaired wound healing, represent a significant and expensive medical problem," Krebs says. An ulcer of the lower extremity precedes 84 percent of all diabetic lower extremity amputations and is the primary cause for hospitalization among diabetics."
The cryogels are one of the latest applications of the therapeutic cerium oxide nanoparticles since their discovery more than a decade ago.
The research was funded by Colorado School of Mines, University of Colorado, Children's Hospital of Colorado and the National Science Foundation.
Seal has doctorate in materials engineering with a minor in biochemistry from the University of Wisconsin, a master's in metallurgy from the University of Sheffield and a bachelor's in metallurgy from the Indian Institute of Technology. He was a postdoctoral fellow at the Lawrence Berkeley National Laboratory. He is affiliated with UCF's Advanced Materials Processing Analysis Center and Nanoscience Technology Center and is also a member of UCF's Biionix cluster and holds a joint appointment in UCF's College of Medicine. He joined UCF's College of Engineering and Computer Science in 1997.
Original story: here